Lip Care Product Online in Bangladesh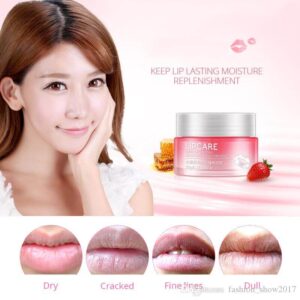 The most facial sensitive part is the lips because the skin of the lips does not have any oil glands and it looks more dry. It is said that, in ancient Greek mythology, the lips of Aphrodite, the goddess of beauty and love, were like red roses. So that Greek women used honey, rose, and olive oil to get such lips. In addition to the use of ancient ingredients for beautiful lips, the use of new ingredients is now being added to the practice of lip care.
What Lip Care Products Do You Need For Lip Care
Cracked and grimy lips are also a cause of discomfort. With a little care, the lips can be kept beautiful even at this time. Apply moisturizer on the lips regularly. You can put lip balm or lip butter with Berole outside. When you go out in winter, your lips get cracked and dust gets on your lips. So then occasionally wash your lips a little and apply lip balm or lip butter.
Some lipsticks are needed to protect the health and beauty of the lips. Great pigmented and long lasting some lip color. Which is now much richer in cream, richer and more moisturizer than ever before. When using lipstick, choose a lipstick or matte lipstick with moisturizer. 
Scrubs are used to protect the elegance of the lips. ChapStick Moisturizer Skin Protectant / Sunscreen, Lipsticks, Lip gloss, Lip care essential oil are also considered as lip care products. 
What causes of Cracking Lips
In the dry weather of winter, the skin and lips become dry. Dry lips also lose vitality. So at this time special care will be required for the skin as well as the lips. Lip cracking is caused by lack of moisture in the lips and body. In winter, the humidity in the air is low, so the lips lose moisture very quickly. So it is necessary to take care of the lips.
Lip Care Should Be Done According to Expert Advice
Use Moisturizing Lip Balm or Lip Gel – You can use petroleum jelly, lip balm or cold cream to prevent dry lips. There are many benefits to using lipgel, especially before going to bed at night. Apart from this, coconut oil, olive oil or castor oil are also very useful as natural ingredients.
Use Good Brand Lipstick
For those who have more problems with dry lips, it is better not to use matte or dry lipstick or lipgloss. And after keeping the lipstick for a long time, remove it with a makeup kit.
Use Sunscreen-Rich Lip Balm
You can use sunscreen-rich lip balm to protect from the sun. Find out at the time of purchase how long it lasts. And whether this cream fits your skin! You can use lip balm to protect your lips from the harmful effects of sunlight. Use a lip balm with the quality of SPF 15 or higher.
Drink Plenty of Water –
This will maintain the softness of the lips. Stay away from dry cold weather. Don't go out unless you need to, especially when it's cold or very cold, try to stay indoors.
Some Tips for Lip Care – When going out, you can use a scarf, mask or any cloth on the surface of the face; So that it hides your lips from the winter air.
Don't Do That When Lip Care
When cleaning the skin, take care that face wash or soap does not stick to your lips and these ruin the softness of the lips. Many people have the habit of biting their lips or nails with their teeth This is very harmful. Because it dries the natural moisture of the lips. It is not right to go to sleep while applying lipstick. It is better not to use lip cosmetics even for a long time.
Why Is Sunscreen Rich Lip Balm Good For Lips
Many times the lips look black for pigmentation. And to get fresh and beautiful lips, you have to apply lip balm at least 15 minutes before applying lipstick. If the lips are dark, it is better to have sunscreen rich lip balm. If not, you can apply two or three drops of sunscreen. Now choose a shade of lipstick close to your skin. 
You can wear dark colored lipstick from skin color. However, do not apply light colored lipstick. Outline the lips with plain lip liner. Rub lightly with blotting paper. Now choose matte finish lipstick or long stay formula lip color. Remember that glossy shades go up quickly. Black lips should always be applied with lipstick close to your skin.
Ways to Remove Dark Spots On The Lips
In addition, the beauty experts suggested the use of some packs that will remove dark spots on the lips at home. Mix 1 tablespoon of rose water with 1 teaspoon of honey and use it as a paste. Leave it for 10 minutes and wash it with lukewarm water. Apart from these, dark spots can also be removed by using lemon, potato or almond oil.
Cucumber juice is very useful to remove any dark spots on the skin. In this case you can mix 2 tablespoons of cucumber juice with 1 teaspoon of glycerin and you can scrub on the lips. Dark spots will be easily removed by using ripe bananas and equal amounts of sour yogurt on the lips. You can also mix rose petals and honey with beet-root juice and apply it on the lips all night.
Lip Care
Showing 1–24 of 44 results
Showing 1–24 of 44 results